ˇˇDazheng Group Co., Ltd now owns 8 subsidiaries, that is Shandong Dazheng Biological Development Co., Ltd., Jinan communication Cable Factory, Jinan Pac Cable & Wire Co., Ltd., Jinan Shengrui Optic-Electric Co., Ltd., Jinan Xifeng Cable plug-in Components Co., Ltd., Shandong Dazheng Pharmaceutical Co., Ltd., Jinan Social Welfare Telecommunication Equipment Factory, Fenghuiyuan Holiday Resort. Each subsidiary has its own products, such as communication cable, optical cable, special cable, cable plug-in components, special cable for auto, information data processing, copper product processing, oral sanitarian products. All of the products possess great shares in domestic and abroad market with good reputation.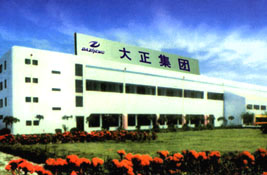 ˇˇThe annual production value of Shandong Dazheng Group Co., Ltd., is 960 million RMB and the annual export value is more than USD40 million. Dazheng Group is the first enterprise to get ISO9000 Certificate in the same line in China. And she is the first one to study and know well the United States' technology standard and get the American UL homologation.
ˇˇToday, under the great support and favorable policy from provincial government, Dazheng Group is developing much quicker with advanced technology and equipment. More and more advanced and high quality products with different standards are supplied to satisfy any kinds of demands of the world.